Woman in Black
– a ghost story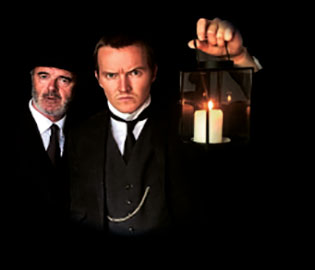 The Woman in Black is an immaculate example of Gothic horror that builds to its climax with the slow purposeful precision of an Edwardian clock.
It has all the ingredients: Isolated marshland, a spectre seeking vengeance for the death of her young child and things that go bump in the night.
This is a quietly shudder-some ghost story capable of chilling the flesh of the most hardened horror fanatic.
Arthur Kipps, a middle-aged solicitor, hires a theatre and the services of a professional actor to help him re-enact and hopefully exorcise a ghostly event that befell him many years earlier with horrifyingly tragic results.
Don't come alone!

____________________________________
SCRIPT Susan Hill & StephenMallatratt
DIRECTOR Barry McKenna
COMPOSER Christiane Bjørg-Nielsen
CAST Ian Burns, Benjamin Stender & Christina Hildebrandt
Plays at Krudttønden
Serridslevvej 2, 2100 Kbh Ø
Oct. 24 – Nov. 24 2018
Mon – Fri 8pm
Sat. 5pm
Tickets: Teaterbilletter.dk / 7020 2096
REVIEW
Your Danish Life (25/10)
KulturKupeen (25/10)
KulturTid (26/10)
Den 4 væg
CphPost (29/19)
UngtTeaterBlod (1/11)
En Tur I KulturLand (9/11)
____________________________________