Oct – Nov. 2021
The Visit
Based on an extraordinary true story

The year is 1857. The great Charles Dickens had invited the equally great Hans Christian Andersen to come and stay with him ten years previously. Andersen, known for his spontaneity, suddenly turned up on his doorstep almost without warning and a very poor grasp of the English language. This sets the stage for a whole string of monumental gaffs, misunderstandings and odd adventures. The man who came to visit for a few days finally left for Denmark after six weeks leaving in his wake a family divided and nervous breakdowns on both sides. Andersen coined the phrase 'To travel is to live.' Dickens might have been inspired by his visit to write his famous line 'It was the best of times, it was the worst of times'.
____________________________________
SCRIPT Barry Mckenna and Peter Holst-Beck
DIRECTOR Barry Mckenna CAST Ian Burns, Peter Holst-Beck & Andrew Jeffers
Plays at Krudttønden Serridslevvej 2, 2100 Kbh Ø
Oct – Nov 2021 
Mon – Fri 19.30 Sat. 17.00
Get your tickets here:
Teaterbilletter.dk / 7020 2096
NB: Performed in Danish and English.
Running time approximately 80 minutes without an interval
* * * * * * * * * * * * * * * * * *
Reviews from 2019
* * * * * * * * * * * * * * * * * *
____________________________________
---
16 March – 9 April 2022
World Premiere
RUB-A-DUB-DUB
by Fergal O'Byrne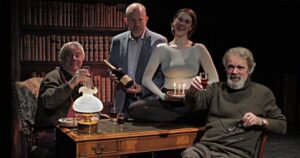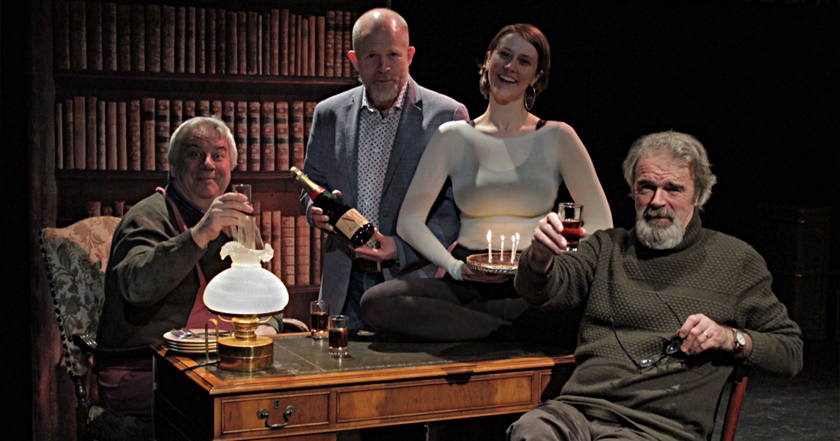 Rub-a-Dub-Dub centres around three ageing friends, Neil, Dan and Bobbi, who due to circumstances have drifted across the globe and only get to meet in person seldomly. Time has been kind to one, cruel to another and cheated by the third.
Neil has arranged an important meal for them in his remote country hideaway. He is nervous about meeting his life-long friends. He has something to tell them. Something he knows they will not be delighted to hear.
Rub-a-Dub-Dub examines the nature of lifelong friendship; the theme of ageing and how we cope with it; and on people's use, misuse and fear of technology.
——————————————————————
DIRECTOR Claus Bue
CAST Ian Burns, Andrew Jeffers, Sune Svanekjær, Nanna Matilde Veileborg Bjelka
Plays at Krudttønden
Serridslevvej 2, 2100 Kbh Ø
16 March – 9 April 2022
Mon – Fri 7.30 pm
Sat. 5 pm
Tickets: Teaterbilletter.dk / 7020 2096