EDUCATING RITA
by WILLY RUSSELL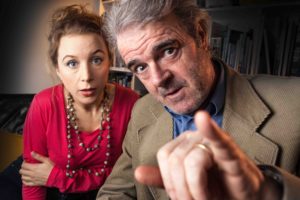 Frank is bored with teaching undergraduate English students, despairing of his ambition to be a poet, he reflects morosely on his life. And then Rita walks in. A 29 year old married hairdresser who has decided to take control of her life and earn herself an education. Rita's brash honesty and Frank's deep intellect spark each other as they both begin to wake up to life in their own way. Willy Russell's award-winning and hugely popular play is an uplifting tale of self-discovery, where we witness how the power of choice comes through education. It's never too late to change your life.

____________________________________
SCRIPT Willy Russell
DIRECTOR Barry McKenna
CAST Ian Burns & Dawn Wall
Plays at Krudttønden
Serridslevvej 2, 2100 Kbh Ø
Oct 25 – Nov 25 2017
Mon – Fri 8pm
Sat. 5pm
Tickets: Teaterbilletter.dk / 7020 2096
---
---
A number
by CARYL CHURCHILL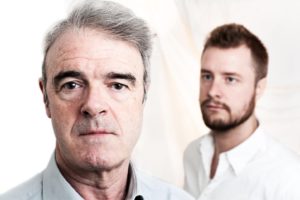 Three sons confront a father. Imagine you found out one day that you were one of a number of copies. How would you feel, and how would you know if you were the "real one", "the human one"?
Human individuality is at the heart of Caryl Churchill's brilliant thriller. A discomforting look at cloning. Punchy, compact and inquisitive; this is no simple warning against the perils of science messing with nature but an intriguing study of parental guilt, regret and responsibility and what it means to be a father or son.
____________________________________
SCRIPT Caryl Churchill
DIRECTOR Helen Parry
CAST Ian Burns & Rasmus Emil Mortensen
Plays at Krudttønden
Serridslevvej 2, 2100 Kbh Ø
Feb. 21 – March 24 2018
Mon – Fri 8pm
Sat. 5pm
From 15 years old
Tickets: Teaterbilletter.dk / 7020 2096