IAN BURNS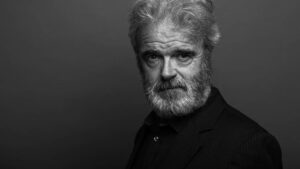 Ian Burns has worked in theatre, film and TV. since 1979. He has been based in Denmark since 1990 where he is married to a documentary film producer. They have two sons. He has enjoyed critical and public acclaim for his theatre productions and has given audiences a taste of both classical and newer British drama. In 1998 Ian was nominated for a Reumert Award with fellow Scot, Tom McEwan, in the category for "Best Show of the Year" for their cabaret entitled, " Jurassic Pork ".
Before Ian came to Denmark he worked in repertory theatres around Britain and appeared in three West End productions, including the original casts of "Blood Brothers" and "Lennon – the musical". He has also worked for the BBC, ITV and Channel 4.
Critics:
"A Night in November" by Marie Jones . CaféTeatret/ Krudttønden 1997 & 1998
"Ian Burns is overwhelmingly entertaining, vital, inspired and engaged in this solo performance…
It is pure pleasure to experience how Ian Burns, alone on the stage, can point out every detail of the story…
Ian Burns is an excellent comedian possessing a great mimic talent but he is much more than this". Politiken
---
Ian translated texts from Danish to English
For DR:
"The Eagle"
Thomas and Timm
Fagbladet 3F
---
INTERTAINER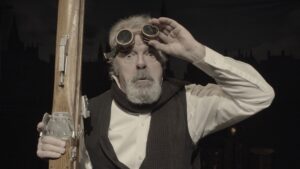 Ian Burns also performs as an entertainer and compere.
This entertainment for conferences or private arrangements can be in close cooperation with the parties concerned, catering for the individual needs of the client. Ian performs solo or with Tom McEwan and the shows can be supported by a pianist or our fantastic four-piece band.
Satisfied clients include: UNICEF; A.P. Moller; Borsen; Ministry of Transport.
Critics:
"Jurassic Pork" Rialto Teatret 1998
"This show is portentous, completely mad and howlingly funny. There was once a Fools Festival theme in Copenhagen called "The Brits are coming". What we experienced here in The Hippodrome must then be an example of "THE EMPIRE STRIKES BACK!"  Information
"Irresistibly funny, Tom McEwan and Ian Burns in Jurassic Pork produce tears of laughter" –  Politiken
"A sublime show. Crazily well structured, well paced and well timed…What more can you expect from a show? Burns & McEwan, why did we have to wait so long to see you perform together? Please don't let it happen again!. Berlingske Tidende
DIRECTOR:
Ian Burns is Artistic Director of That Theatre Company. That Theatre Company is an English language theatre founded in 1997 by Ian Burns and Julian Simpson. Their first production was Irish writer Marie Jones' highly acclaimed and moving piece; "A Night in November". Since then the group has grown to include other resident British actors, Tom McEwan, Linford Brown and Steve Smith, plus directors Claus Bue and Barry McKenna. The ensemble has enjoyed success with both thought-provoking drama by Pinter and Beckett and entertainment of a lighter nature.
Voice samples by Ian Burns
REKLAMER:
Volkswagen
Gorenje, Great Thinkers
Tipstjenesten
Sonofon
Come to Glasgow
Danalogic
Frederiksværk
Inwear
DOKUMENTAR:
Voyage Across The Sea (National Museum 2020)
Tango (instruktør Erik Clausen)
The Art of Dying
TEGNEFILM – ENGELSK SPEAK:
Danske Tegnefilm Kompagni: There ain't nobody here but us chickens
CORPORATE:
Arla Corporate presentation
AFI external
Copyright © That Theatre Company 2023