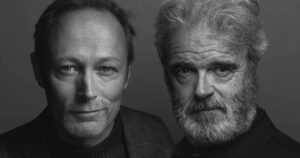 April 2023 – THE CPH POST
There were whispers when Ian Burns marked his 25th year at the helm of That Theatre Company in 2022 that this could be the end, or at least the beginning of the end.
Certainly, he has been making fewer appearances on stage in recent years: just nine out of the last 15 productions dating back to 2015, opting to direct instead, after a run of 29 consecutive acting performances.
Last year brought many joys: a commemorative 25th anniversary special edition produced by CPH POST; more original material in the form of the highly-acclaimed Rub-A-Dub-Dub by resident playwright Fergal O'Byrne; a six-star production of Fly Me to the Moon by Marie Jones, the very same playwright who launched the TTC era back in 1997; and a personal Lifetime Achievement nomination for Burns from CPH Culture.
So who could have predicted that 2023 would top it all? Well, it just has!
None other than Lars Mikkelsen!
Burns has exclusively confirmed to CPH POST that starring alongside himself in the TTC autumn production of the Harold Pinter classic 'The Dumb Waiter' is none other than one of Denmark's biggest ever stars.
Before you choke on your Weetabix and croak disbelievingly: "Mads Mikkelsen?" let me tell you that it isn't, although it is surely the next best thing (no, not Nikolaj Coster Waldau!) as it is Mads' elder brother!
In the history of English-language theatre in Denmark, Lars Mikkelsen is the biggest Danish name to grace a stage since … well, Hamlet.
A multiple Robert and Bodil winner for roles in Danish TV shows such as 'Nikolaj og Julie', '1864', 'Forbrydelsen', 'Borgen' and 'Herrens Veje', his breakout year internationally was arguably 2014 when he landed major roles in 'Sherlock' and 'House of Cards'.
Truly honoured to land Lars!
"Lars and I have talked about doing something together for years. Well, it was worth the wait and what a great play to tackle" Burns told CPH POST.
"Lars has worked with our director, Barry McKenna before. They won a Reumert with Thomas Magnussen for their acclaimed production of 'Flammens Mus'.
The performance promises to be TTC's last ever production at Krudttønden, a theatre where it has faithfully staged almost every production of its last 22 years of existence – a run of 41 plays dating back to 2001.
"In the near future we plan to try and tour our production of 'The Visit' here in Denmark and at Dickens and HC Andersen festivals around the world and then to produce one theatre show a year at a venue other than Krudttønden," revealed Burns.
"So, if anyone has any ideas of where that could be please write to me at pr@that-theatre.com."
For tickets – teaterbilletter.dk.
Copyright © That Theatre Company 2023